Chicago City Council Chambers | Wiki Commons
Alderman John Arena's office recently filed complaints with oversight agencies about social media comments by police officers and dozens of government workers who oppose a mixed-income housing project.
The City of Chicago recently released documents showing Arena's office collected information on roughly 70 individuals who expressed crime-related concerns about the proposed housing complex that will be located at 5150 N. Northwest Highway.
These individuals included police officers, firefighters, retired teachers, a Chicago Park District employee and Chicago Public Library worker.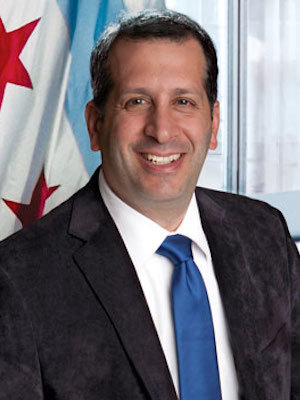 Chicago 45th Ward Alderman John Arena
The alderman's staff filed the complaints with Civilian Office of Police Accountability after consulting with both the Inspector General's office and the Anti-Defamation League, according to a story by Nadig Newspapers. The social media comments by the police officers violate their rules of conduct, Arena said.
In February, the Chicago Fraternal Order of Police (FOP) said the complaints made by Arena's staff against the Chicago Police Department members for opposing the building project violate the civil rights of its members.
"This is very troubling," FOP attorney Tim Grace said in the February press release. "By opposing a building project off duty on your own time in your own neighborhood, you are being racist? You are then accused of misconduct at your job? This is ridiculous."
Arena has been the alderman for Chicago's 45th Ward since 2011.