'Do we have the courage to be reasonable, to be kind?' Proft describes politics as drying Illinois like a desert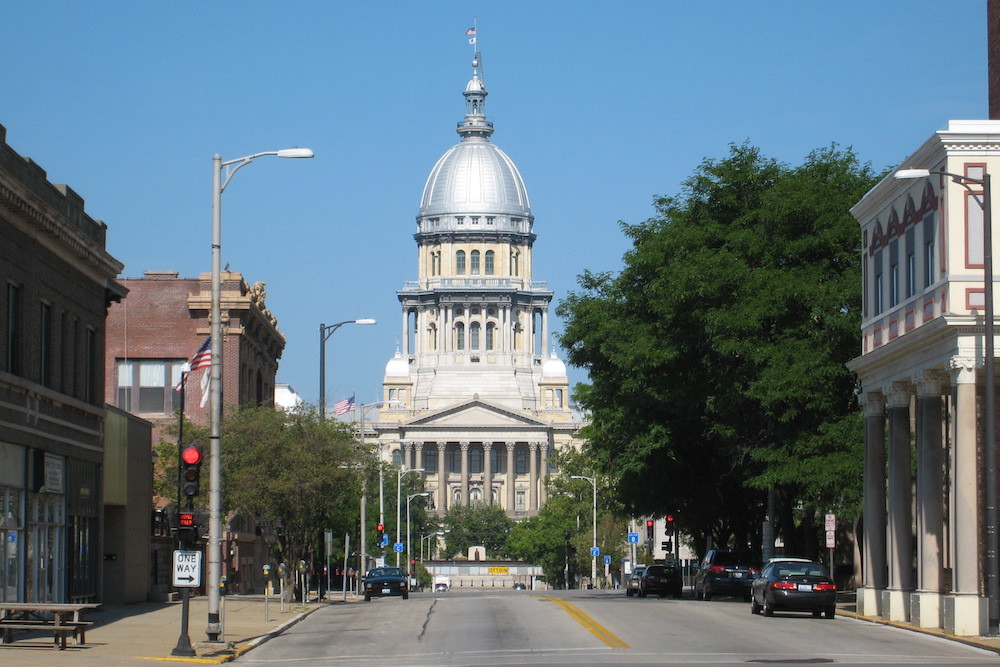 Springfield, Illinois | By Éovart Caçeir at English Wikipedia, CC BY-SA 3.0, https://commons.wikimedia.org/w/index.php?curid=10535377
Dan Proft turned to humor to accentuate his concern about the state of Illinois politics during a speech earlier this month before the City Club of Chicago.
"This is not going to be another dreary speech delineating the statistics that punctuate Chicago's place as the worse-governed major city in America in the worse-governed state in United States history," Proft, a veteran talk radio host and former Republican candidate for governor, said. Proft is also principal of Local Government Information Services, which owns this publication.
Dan Proft
Proft discussed how 85 percent of families in Illinois say the state is on the wrong track and how half of them readily admit they'd rather be somewhere else.
"If you think we can have public-sector employees pay $140,000 into the pension system and get $2 million back; if you think we have a revenue problem and not a spending problem; and if you think 32 years of the last 34 of Mike Madigan's speakership is not a sufficient probationary period, then this speech is for you," he said.
Proft said the inconsistencies in the world of Illinois politics are glaring.
"Every politician in both parties says, 'I'm going to Springfield to provide state services because that's what a civilized society does,' but how is it until recently we were 51st out of 50 states, behind the District of Columbia, in providing services to people with developmental, intellectual disabilities," he said.
Adding insult to injury, Proft said a sizable portion of the state's more than $16 billion in unpaid debt is owed to social services providers.
Proft argued that Madigan has been able to control everything as long as he has because Republicans haven't always fought the way they need to.
"The reason Madigan has enjoyed his run is not because he's genius: It is because the Republican Party is feckless, weak and surrenders," he said.
State politics has become so divisive that it is tearing apart families, Proft contended.
"Millennials are leading the exodus from this state," he said. "The problem is, for the biggest investment middle-income families make in their lives — their homes — it's not possible to get a rate of return on. We talk about businesses leaving, people leaving; people are leaving to go to states that keep their promises to families that have a member with developmental disabilities."
To Proft, that's a clear indication it's time state leaders change their focus.
"We should be having a conversation about keeping our promises," he said. "Instead of only talking about being No. 1 in job creation, maybe we should focus on being No. 1 in providing services that are a mirror of our humanity. We have become an unkind state, a barbaric state."
Proft sees another jarring example of that in the way Ford Heights, one of the state's poorest communities, now boasts some of the highest property taxes.
"This state is becoming a home equity desert, and it's forcing people to leave and breaking up families," he said.
Proft said he finds strength in his rationalization that all the state's problems are man-made and thus solvable.
"The question to me seems to be one of courage," he said. "If you don't have courage, it is impossible to possess any of the other virtues you say you have, because when pressed, you will fold. Are we going to tolerate the system? Do we have the courage to be reasonable, to be kind?"
Want to get notified whenever we write about
City Club
?
Next time we write about City Club, we'll email you a link to the story. You may edit your settings or unsubscribe at any time.
Sign-up for Alerts
Organizations in this Story
More News