Republican Ives will challenge Rauner and his 'series of bad decisions'
Rep. Jeanne Ives (R-Wheaton) marches forward in her exploratory gubernatorial campaign emboldened by what she senses as the growing possibilities.
"I have a lot of trust in the majority of voters of Illinois," Ives, who recently began circulating petitions in anticipation of a 2018 GOP primary run against Gov. Bruce Rauner, said during a recent appearance on Chicago Morning Answer radio. "Voters will vote for someone that has a backbone and will stand up for them."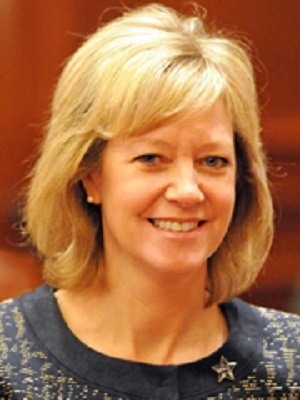 Illinois State House Rep. Jeanne Ives (R-Wheaton), running for governor
The Morning Answer is hosted by Dan Proft who is a principal in Local Government Information Services, which owns this publication.
The 52-year-old West Point grad recently crisscrossed the state on the campaign trail, speaking and meeting with voters about what she stands for.
"We have a broad base of support, my calendar is filling up quickly and I've been invited to events across the state," Ives said.
Everywhere she goes, Ives said her message has consistently been the same.
"GOP primary voters deserve a choice," she said. "They can choose between big government run by the wealthy class or they can take the conservative reform ticket. We're going to take on this challenge, and we're going to be honest with the people of Illinois. Too many families and businesses are getting lied to and hurt by the policies of Springfield, and I know that firsthand."
Ives vowed not to be intimidated by Rauner's pledge of using his own fortune to fund his re-election efforts.
"I'm very confident we can raise that level of money," she said. "No one is saying I shouldn't win; they're looking for someone to be honest with them."
Ives said Rauner's disconnect with voters has stemmed from his inability to live up to many of the things he promised when he campaigned as a candidate in 2014.
"This isn't just one decision he made, this is a series of bad decisions," she said. "The other thing I'm concerned about is we have a culture of corruption, and as executive of the state he has to take on that critical issue."
Ives said her approach will be noticeably different.
"We're going to hyper-focus on what we need to do," she said. "We're going to take a different tactic when we put in policy, focus on how desperate Illinois needs job creation and needs to become business friendly. We elected Gov. Rauner to be the stop for bad legislation and he has failed."
As voters come to make their decisions, Ives said her record of conservative principles and fiscal responsibility speaks for itself.
"I'm happy to put my voting record out in public," she said. "Most of the legislation put out in Springfield you couldn't sell it to anyone but those living in a bubble."
Ives said she's proud and excited by the way some of the state's most well-known Republican lawmakers have rallied behind her to offer support.
"It will be up to GOP primary voters," she said, adding that no one from Rauner's office has reached out to her campaign and she doesn't suspect that they will.
Ives has installed former Rep. Rich Morthland as her running mate and Chicago GOP Chairman Chris Cleveland as her campaign chairman.
Want to get notified whenever we write about
Illinois Representative Jeanne Ives (R-42nd)
?
Next time we write about Illinois Representative Jeanne Ives (R-42nd), we'll email you a link to the story. You may edit your settings or unsubscribe at any time.
Sign-up for Alerts
Organizations in this Story
Illinois Representative Jeanne Ives (R-42nd)
More News