IPI's Tillman celebrates Supreme Court's Janus decision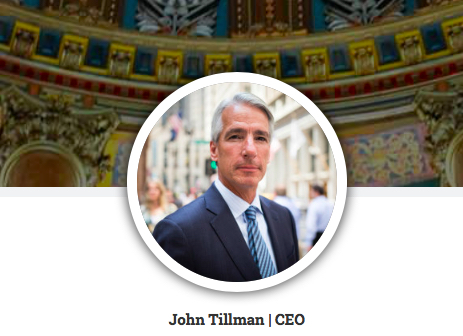 John Tillman, the chairman and CEO of the Illinois Policy Institute (IPI), a nonpartisan state-based public policy think tank and government watchdog, cheered the Supreme Court's recent landmark decision in Janus v. AFSCME.
The court ruled in favor of public sector union members who do not want their dues to go toward political purposes.
Tillman is also the co-founder and chairman of the Liberty Justice Center. He worked in the private sector before founding IPI and Liberty Justice Center. He has also led political campaigns and advocacy organizations.
He developed a philosophical credo called the "political vise" that has continued to inform his lifework.
Tillman is known for his advocacy of free markets and limited government and for pursuing policies that champion the prosperity of the human spirit.
Tillman was born and raised in Fremont, Michigan, to Calvin and Jennie Tillman. He refers to his hometown as "the best place on earth to grow up." Tillman's father was an executive with Gerber Products Company and his mother was a stay-at-home mom. Tillman has two older brothers and a younger brother from his father's second marriage.
Tillman's parents divorced at an early age, leaving Jennie financially troubled.
"My mom went from playing golf and bridge with the women at the country club to waiting tables at the country club," Tillman recalled of Jennie's hardship during his upbringing.
Jennie battled mental illness. Her condition worsened in the years following her divorce. She was frequently institutionalized throughout John's high school years, at one point resulting in Tillman living with his high school football coach and his family. Tillman said of that time, "Not only did my coach and his amazing wife generously take me in, but there were also three or four other families in town who offered as well. It was an amazing, kind place to grow up. It makes me think of all the kids in Chicago and elsewhere who don't have that good fortune when times are tough."
Tillman earned a bachelor's degree in business from Wayne State University located in Detroit, earning a High Distinction when he graduated in 1983.
While studying at Wayne State, Tillman found employment at DialAmerica Marketing in 1982. During his tenure, he grew the company's offices in Washington, D.C. and Chicago, Illinois into two of the top performing branches. The D.C. branch had been the company's lowest-performing branch prior to Tillman's management but rose to No. 1 in the company 10 weeks later.
Tillman moved to Chicago in 1985.
Tillman started Sports Ideas, Inc. in 1993, his first independent entrepreneurial venture. He opened his first franchised Play It Again Sports store that year and his second in 1994. Tillman sold all of his remaining interest in the business in 2007.
Tillman's foray into the nonprofit sector began with rebuilding the dormant Americans for Limited Government (ALG), where he worked alongside libertarian activist Paul Jacob. Tillman served as president of ALG from 2004 to 2006, his first opportunity to pursue his passion for public policy and political activism.
In 2006, he helped launch the now-defunct Sam Adams Alliance, an organization that provided support to grassroots activists. He served as president of the organization until 2007.
In 2007, Tillman became head of the nonprofit Illinois Policy Institute, where he currently serves as Chairman and CEO. Building on the foundation laid by the original founder, Tillman is credited with building IPI into one of the most influential state-based think tanks in the country. IPI has become the largest state-based think in the country and even outgrown many of its Washington, D.C.-based, nationally focused counterparts.
In 2009, Tillman debated then-Gov. Pat Quinn on the television program Good Day Chicago. His group's work helped to defeat Quinn's proposed tax hike.
He has expressed frustration with both major political parties.
Tillman's strategy in his professional work is motivated by a philosophical framework he has called the "political vise." He has credited the political vise concept as being fundamental to the impact of the Illinois Policy Institute.
The political vise theory posits that policymakers' legislative decision-making is informed by three dominant factors: the media, public opinion and "influencers." By gaining a hold over these three elements, they can be collectively employed as mediums through which to disseminate one's policy messaging. Pressure can then be gradually applied, akin to turning the lever of a vise.
Tillman lives in a suburb north of Chicago with his wife and daughter. He is a fan of golf, tennis and skiing, along with bourbon, cigars and his dog Oreo.
Want to get notified whenever we write about
Illinois Policy Institute
?
Next time we write about Illinois Policy Institute, we'll email you a link to the story. You may edit your settings or unsubscribe at any time.
Sign-up for Alerts
Organizations in this Story
More News