Veteran Democratic Congressman Danny Davis is blasting the Trump administration's proposal to send waves of undocumented immigrants to so-called sanctuary cities such as Chicago, calling it "un-American."
Davis' harsh words came after he initially boasted to Newsweek that the city would deal with such a development as "humanely" as possible.
"The bottom line — it shows the kind of vindictiveness on the part of the administration, which is most unfortunate for the country, and is most unfortunate in terms of a way to treat human beings," Davis said.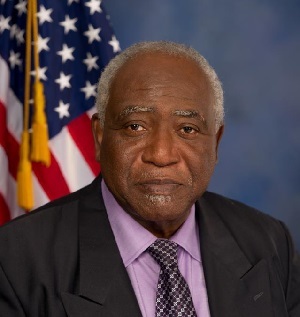 Illinois Congressman Danny Davis
Reports are that Chicago is near the top of the list among cities that Trump has targeted as potential drop-off points for illegal immigrants given its Democratic leanings and the fact that lawmakers here have recently enacted legislation drafted to protect the city from Immigration and Customs Enforcement (ICE) officials. New York and San Francisco, also long known Democratic strongholds, are likewise reported to be near the top of the list where migrants would be shipped.
Davis, whose 7th District includes all or part of the communities of Austin, Chinatown, Douglas, East Garfield Park, Englewood, Fuller Square, Bronzeville, Humboldt Park, Kenwood, the Loop, Near North Side, Near South Side, Near West Side, North Lawndale, Oakland, Washington Park, West Englewood, West Garfield Park and West Town, railed against the idea.
"Taking the position that you go and dump overflow or overpower communities because of their sanctuary city status, or because they have said they would provide humane treatment to individuals who are displaced no matter how they became displaced, is just unconscionable," he told Newsweek. "Chicago is a city of immigrants and one that understands humanity."
Illinois joined the ranks of sanctuary cities earlier this year with the passage of House Bill 1867, which limits the level of cooperation such entities as public schools, state-funded medical treatment facilities, public libraries, courthouses and offices operated by the Secretary of State are required to provide to ICE. Not long after the bill that was sponsored by Democratic representatives Emanuel "Chris" Welch (D-Westchester), Elizabeth Hernandez (D-Cicero), Jennifer Gong-Gershowitz (D-Glenview), Linda Chapa LaVia (D-Aurora) and Sara Feigenholtz (D-Chicago) officially became law, lawmakers moved to continue a program that provides welfare benefits to illegal immigrants despite the state already being some $8 billion in arrears on unpaid bills.
Earlier this month, senate lawmakers introduced SB 1610, which amends the state's criminal code to allow immigrants the right to withdraw guilty pleas if it stands to impact their immigration status if the judge overseeing the case failed to inform them a guilty verdict could lead to their deportation.
More recently, the Democratically controlled senate passed SB 1290, legislation that stipulates that landlords cannot retaliate against tenants they learn are in the country as illegal immigrants.