Poll underscores loss of hope for unemployed in Illinois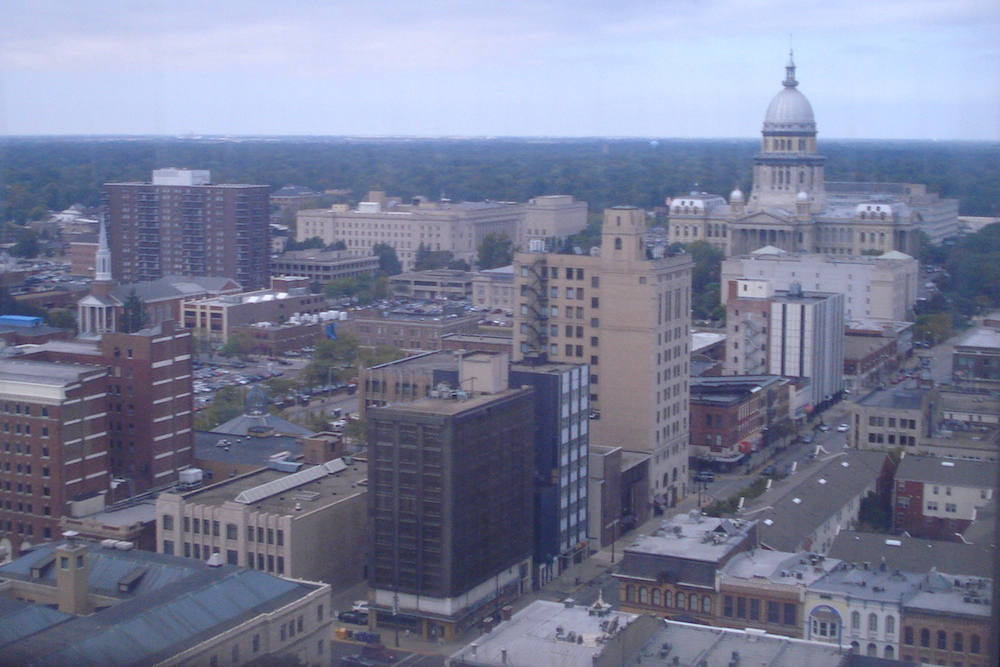 Springfield, Illinois | By Katherine Johnson, A dreary day in Springfield Illinois, CC BY 2.0, https://www.flickr.com/photos/59179708@N00/1469062503
Unemployed Americans have grown more hopeful about finding a job in recent years -- except Illinoisans, that is, where the opposite is true, according to a recent survey.
Across the country, 33 percent of those without work say they have more or less given up, a decrease from 40 percent in 2016, but in Illinois, the rate of relative hopelessness regarding employment has gone from 33 percent in 2015 to 41 percent in 2016 to 44 percent this year.
The statistics come from a survey conducted by Harris Poll that was commissioned by Express Employment Professionals.
A Chicago Tribune report said Bob Funk, CEO of Express Employment, attributed this trend at least in part to the current economic and political situation in Illinois. The state is operating under a massive cloud of debt, with $130 million in unpaid pension debt and more than $14 billion in unpaid bills that continue to mount, according to a recently revised estimate from the state comptroller.
Of the unemployed respondents in lllinois, 45 percent had only a high school diploma and just over 30 percent were under 30 years old, the Tribune said. Express Employment franchise operator Patrick Dolan, who oversees 16 outlets around Chicago, noted that while low-skill, low-pay jobs are available, many workers are unwilling to consider work that pays less than $10 per hour.
Dolan also pointed to the increased use of online job searches and applications, which can be overwhelming for companies with open jobs and lead to applications being lost in the shuffle.
But according to the Tribune, Dolan also suggested that the survey results were impacted by an increasing unwillingness on the part of employers to expand while operating under the state's economic conditions.
"Business owners know that we have massive unpaid bills in the state, so they start thinking tax hikes," Dolan told the Tribune, pointing to minimum wage increases and paid sick leave laws as other factors inhibiting employers' abilities to spend on expansion.
In an article on the Express Employment Professionals poll, the Illinois Policy Institute agreed with Dolan's assessment, noting that the state's best chance at a budget deal so far includes significant tax increases without comparable reforms to curb spending.
Bakala compared the current business climate in Illinois with that in Indiana, where businesses and individuals are subject to fewer taxes and economic growth has been much healthier.
Illinois residents are subject to some of the highest property taxes in the country, and the state is the seventh-most expensive in terms of combined state and local sales taxes.
From 2006 to 2016, Indiana residents saw their personal income grow by an average of nearly 39 percent, while their counterparts in Illinois saw growth of 31. 4 percent. Illinois lost 18,000 manufacturing jobs between 2012 and 2016, while Indiana added nearly 32,000. In fact, between 2006 and 2015, a 119,000 Illinoisans crossed the border to take advantage of the growth in Indiana.
"The Prairie State's poor income growth and its massive tax burden make out-migration a no-brainer for many residents," the institute said. "…It's not hard to see why: Indiana residents have better opportunities in the well-paying manufacturing sector, higher income growth, and a much lower tax burden. Springfield should learn from Indiana and put in place policies that reduce the number of people who have given up on finding work – and on Illinois."
Want to get notified whenever we write about any of these organizations ?
Next time we write about any of these organizations, we'll email you a link to the story. You may edit your settings or unsubscribe at any time.
Sign-up for Alerts
Organizations in this Story
Chicago Tribune • Illinois Policy Institute
More News